US stocks inch lower as Trump tweets US will solve North Korea "problem"

US stocks closed lower on Tuesday as investors shied away from risky assets with no resolution in rising geopolitical tensions over North Korea and Syria in sight. The dollar continued weakening : the live dollar index data show the ICE US Dollar index, a measure of the dollar's strength against a basket of six rival currencies, ended 0.3% lower at 100.706. Dow Jones industrial average slipped less than 0.1% to 20651.44. The S&P 500 declined 0.1% settling at 2353.78 led by technology and financial stocks. The Nasdaq index lost 0.2% to 5866.77.
Investors focused on geopolitical tensions as US naval strike group, which includes the aircraft carrier USS Carl Vinson, advanced to the waters off North Korea and Trump tweeted that the US would solve the North Korea "problem" with or without China's cooperation. Market participants are awaiting for earnings data as the rally inspired by expectations of tax and fiscal policies advocated by president Trump that would stimulate accelerated growth stalled, with stock valuations at historical highs. Economic data were mixed: A March report on small-business optimism showed a slightly larger than expected decline in sentiment, but job openings in February rose by 2.1% to 5.74 million, according to the Labor Department. Today at 13:00 CET Mortgage Applications will be released in America. At 14:30 CET March import and export price indices will be published, the outlook is negative for dollar. And at 16:00 CET Bank of Canada interest rate decision will be announced, no change in policy is expected.
European stocks slide despite positive data

European stocks ended slightly lower on Tuesday as French election uncertainty and geopolitical tensions undermined market sentiment. Both the euro and British Pound inched higher against the dollar. The Stoxx Europe 600 slid 0.02% paring earlier losses, Germany's DAX 30 underperformed closing 0.5% lower at 12139.35. France's CAC 40 lost 0.1% while UK's FTSE 100 outperformed gaining 0.2% to 7365.50.
French election uncertainties added to mounting geopolitical tensions as foreign ministers from the Group of 7 industrialized nations gathered in Italy where Britain and America failed to win support from European allies for new sanctions on Russia following the chemical weapons attack in Syria. Positive economic data were shrugged off by markets: haven demand rose even as data showed Germany's ZEW economic expectations hit 19.5 in April, far above the 14.8 expected estimate. Gold prices rose on back of higher heaven demand as geopolitical tensions rose, lifting UK's gold miners. Today at 10:30 CET February labor market report will be published in UK. The tentative outlook is neutral for Pound. At the same time Bank of England governor Carney will speak in London.
Asian stocks mixed as North Korea warns of a nuclear attack

Asian stock indices are lower today on lower risk appetite as US air carrier group sails toward the Korean peninsula and North Korea warned of a nuclear attack on the United States at any sign of aggression. Nikkei lost 1.0% to 18552.61 more than four-month low as yen hit five-month high against the dollar. Chinese shares are higher as inflation inched 0.1 percentage point higher to 0.9% in April and the slowdown in producer prices was less than expected with PPI up 7.6% after 7.8% gain in March. Shanghai Composite Index is up 0.2% while Hong Kong's Hang Seng Index is down 0.7%. Australia's All Ordinaries Index is up 0.3% lifted by commodity stocks as Australian dollar edged higher against the dollar.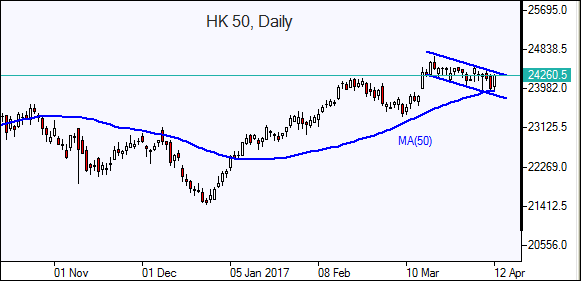 Oil prices rise ahead of inventory data

Oil futures prices are extending gains today to six-day winning streak supported by news Saudi Arabia told officials from the Organization of the Petroleum Exporting Countries that it wants to extend major oil producers' agreement to cut crude production for another six months when OPEC meets in May. Prices closed higher on Tuesday, with June Brent crude closing 0.5% higher at $56.23 a barrel on London's ICE Futures exchange. Today at 16:30 CET the Energy Information Administration will release US Crude Oil Inventories. Analysts of S&P Global Platts forecast a 125 thousand barrels rise in crude inventories.